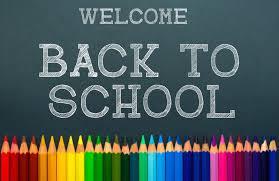 It is finally here!  Tomorrow will be the first day of school for 2018-19 and we cannot wait.  At RMB we will continue to use the same format as in previous years.  All Grade 1-8 students should be on the playground near their exit/entrance doors.  Signs will be posted as reminders.  Staff will be on the playground starting at 8:38 AM and will assist in notifying students about their classrooms.  Class lists will also be posted (first name only) by the appropriate exit/entrance door.  Out of respect for privacy, photos or videos of class lists are strictly prohibited. New families to RMB are welcome to meet on the playground or coming in to the school to the office where a staff member will assist you.
We ask that all Kindergarten families and students come inside and proceed directly to the Kindergarten room where Mrs. Taylor will be waiting to greet you!
Looking forward to seeing all of our RMB Blazers Tuesday morning!