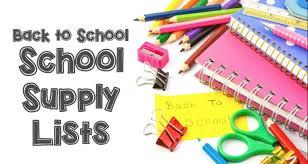 Kindergarten
 Supply List          2020-2021
Updated June 2020
1.      1 - pair of Velcro closing gym runners
(Marked with name)
2.      2 – glue sticks (marked with name)
3.      1 - backpack
                             (Marked with name)
4.      2 - packages of Crayola markers (Marked with name on           each marker)
\
5.      1 - box of 24 crayons (Marked with name on each crayon)
6.      1 - jar Playdough
7.      2 - Small snacks DAILY (NO PEANUT BUTTER or         NUT PRODUCTS) 1water bottle filled daily with water (no juice please).  A lunch if staying for lunch at school.
8.   1- Poly (plastic) Envelope (Velcro or string tied, marked with name) this will go to and from school daily with mail.
  9.  1- plastic pencil box. Dimensions: 2-3/5" H x 8-3/10" W x 5-1/2" D (marked with name)
As field trips arise, families will be notified of costs.