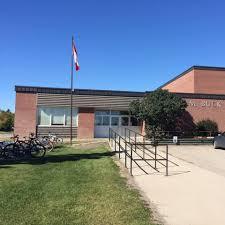 Hi Blazer Families! 
We hope that you have had a wonderful, safe, and relaxing summer!  With school opening just around the corner, we know that families have a number of questions and concerns.  We hope we can answer some of these. Of course, these updates are subject to change as more information comes to us through our division, the Saskatchewan Health Authority, or the Ministry of Education.
We want to share a few items now so you can start preparing for our return. We also want to encourage you to check our website (ruthmbuck.rbe.sk.ca) and Twitter feed (@RuthMBuckSchool) for the most current information as things are continually changing. The local news is also a good place to check for updates.  
As physical distancing in the classroom can be difficult, students in grades 4-8 and all staff will therefore wear non-medical masks (please purchase more than one) and students in grades K-3 will be encouraged to do so as well. Pairs of students will also share lockers but only for coats and shoes.  
Students will remain in their classroom groups – or cohorts – for the day. Specialist teachers, administration, educational assistants, etc., will interact with the cohort in their space to avoid having the students move about. Students will also eat in their room with the same cohort. The library and gym will be closed to start the year. 
Students will not work in the hallways or other spaces as we are accustomed to doing.
We are increasing from 4 exit/entry points to 6 entry/exit points. Teachers will pick up their classes from their designated doors and will be dismissed from the same location. Parents are asked to meet their child(ren) just outside school property so that our playground and school facility are designated for staff and students only during school hours. Parents with primary children are encouraged to start practicing now where you will meet your child at the end of the day if they are walking or they are being picked up. 
For student safety, the staff parking lot is never to be used as a drop-off and pick up area. If you are transporting your child(ren), we ask that you drop your child(ren) off at least a block away from the school to minimize the congestion right around our school facility.  Student safety is still paramount and we want as few vehicles as possible by the school when excited children are crossing streets to come to/leave school.  We understand this may be an inconvenience but please understand that we also share a street with another school and they also have a large number of students.
Recesses have been moved in order to limit the coming and going from classrooms but will be used primarily to stagger entering and exiting the building. A split recess will occur during lunch. Our new hours are:
8:53 a.m.- 9:08 a.m.– Morning recess
9:08 a.m. – 11:45 a.m.– Morning classes
11:45 a.m.– 12:45 p.m.– Lunch and 1 recess (staggered) - Recess 1 (half of the school) (11:45-12:00) Recess 2 (Remaining half of school) (12:30-12:45) 
12:45 p.m. – 3:22 p.m. – Afternoon classes
3:22 p.m. – 3:37 p.m. – Afternoon recess.  Dismissal if permission given.
3:37 p.m. - Dismissal
We ask that students not coming by bus come as close to 9:08 as possible to avoid overcrowding. The same applies at the end of the day (3:22). Students who have their parents' permission will be free to make their way home rather than stay for recess.  
Students transported by bus will receive their schedules from Regina Public Schools Transportation. Masks will be mandatory for all students riding the bus.    
You will be contacted by your classroom teacher prior to the beginning of school as we can not host a BackPack Dropoff or and Open House. They will introduce themselves, share the routine for day 1, and answer questions. 
If you are interested in remote learning please go to https://www.reginapublicschools.ca/eschool.  This is not the same as the supplemental learning we provided in March-June but rather the full curriculum with on-going assessment. 
Much more information will come but we wanted to give you an initial picture so you can decide what is best for your child this fall.  As always, we commit ourselves to make Ruth M. Buck a great place to be and learn but will need your help and patience.
Take care,
Blair Litzenberger – Principal
Andrew Pelling – Vice-Principal